Industrial energy systems
Innovative from A to Z
In keeping with the guiding principle "Focus on energy", we specialise mainly in the construction of complex and large power plants for heat, refrigeration, industrial gases and electricity for industrial and medium-sized companies.
We will take an in-depth look at your company, required energy types and processes in order to discover possible areas of potential. Then we will work with our team of technical experts and make intelligent use of state-of-the-art technologies to develop efficient, long-term and comprehensive solutions.
Optimising your energy costs while complying with all environmental regulations and satisfying the desire for user comfort
Conserving your resources by using renewable energy sources
Increasing your effectiveness and efficiency
Ensuring your overall economic success now and in future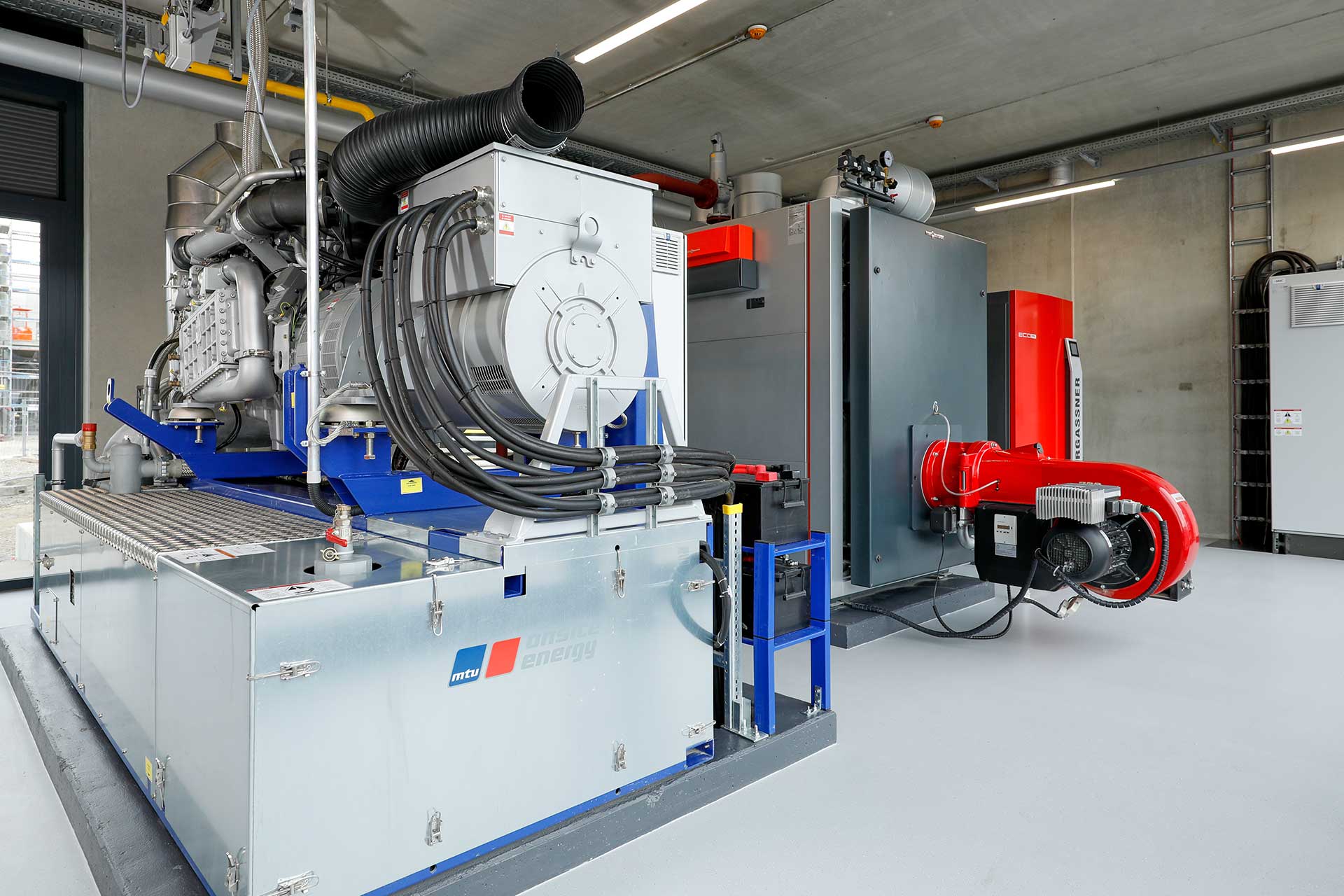 Range of products and services for industrial energy systems: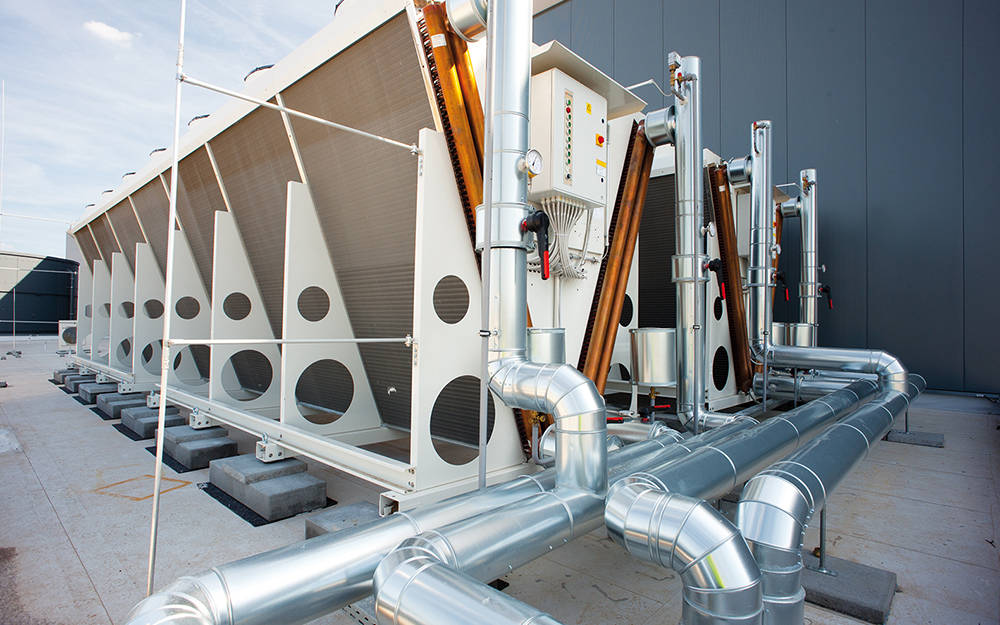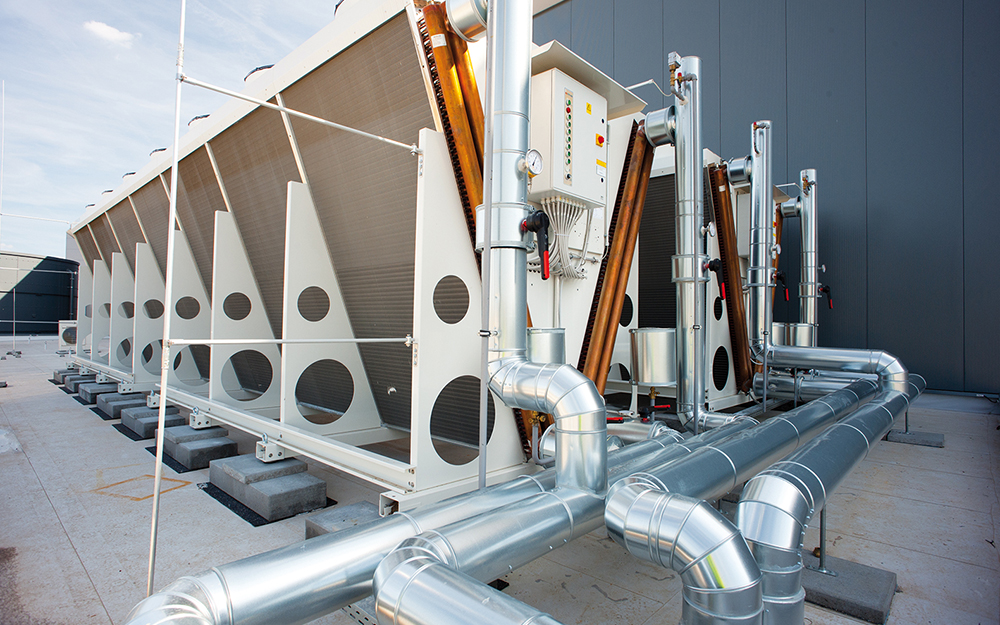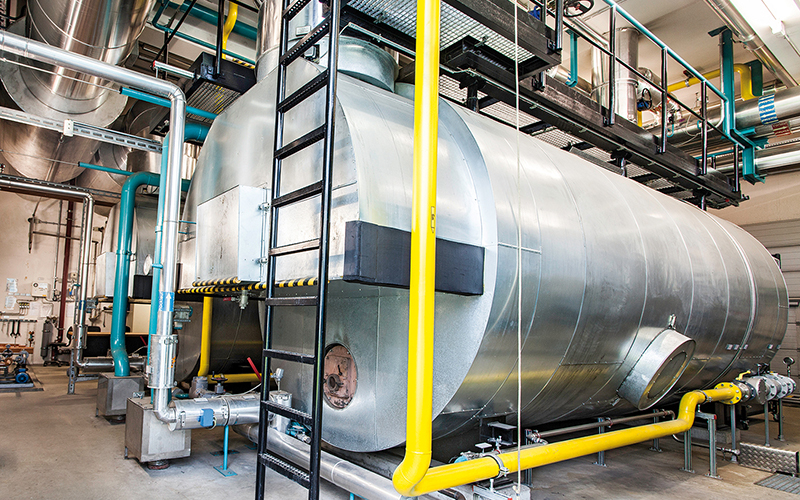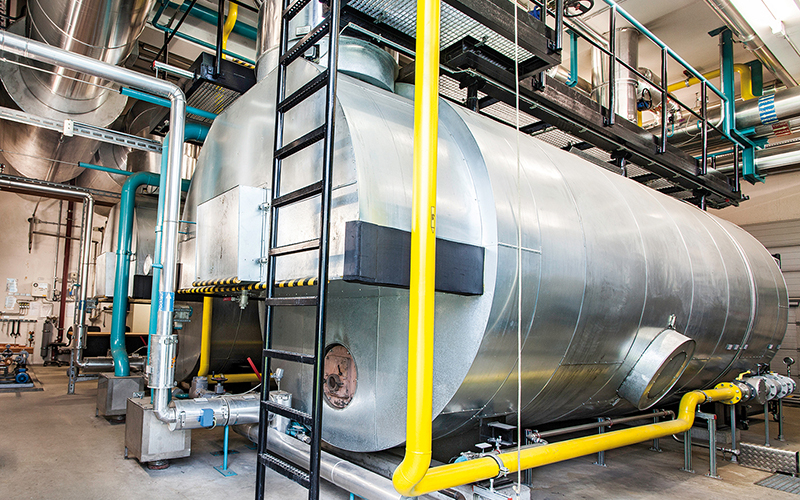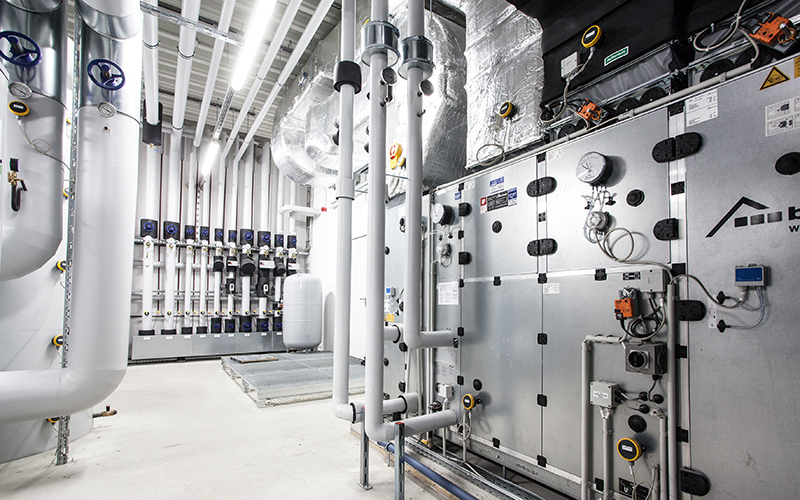 Building Services Engineering (BSE)
Added value through extensive expertise
When you choose Alois Müller, you will get customised energy supply systems from an expert.
We have more than 600 employees at the Alois Müller Group and offer you services related to heating, ventilation, refrigeration, plumbing and industrial gas technology, as well as electrical engineering, measurement, control and automation technology, and building automation systems.
We draw upon our innovative expertise, experienced specialists, labour force and some of the best machines, vehicles and tools in the building services industry to tackle the requirements specific to each project.
We guarantee short construction times and fast project cycle times while ensuring the highest quality and compliance with the most stringent requirements at all times. From renovation to new construction, from large-scale projects to simple machine connections – we are your expert partner for all your current and future building services needs.
Range of products and services for BSE | Building Services Engineering: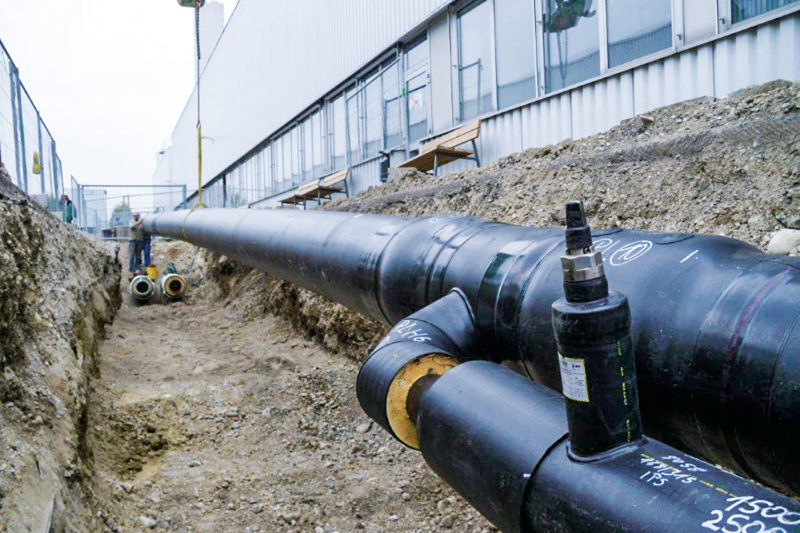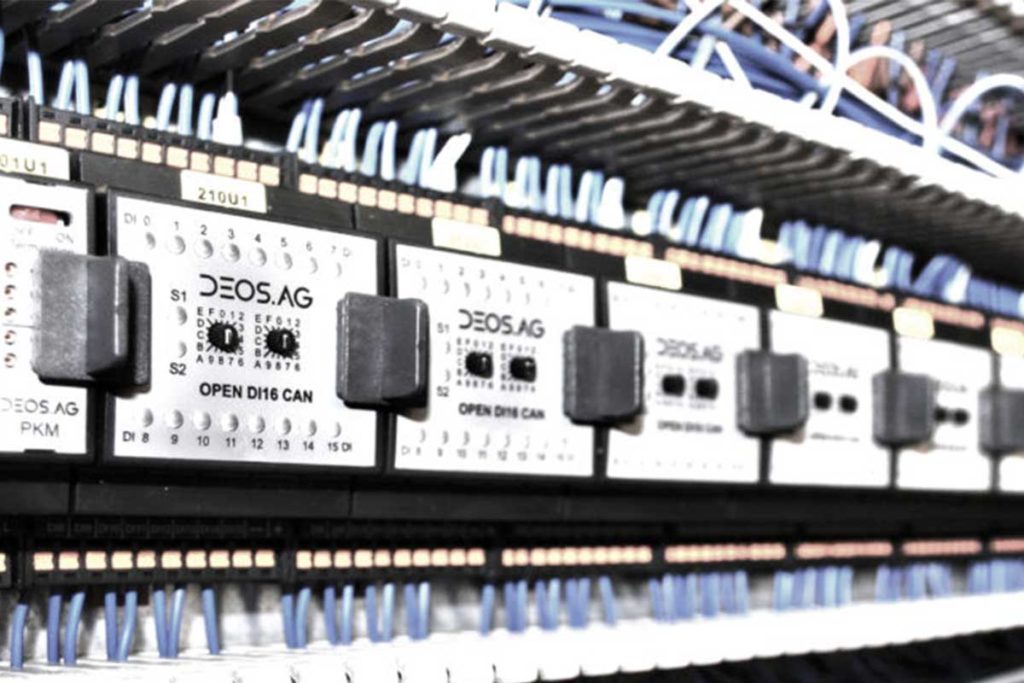 Air duct manufacturing and production
Made in Germany – CO2-neutral
At our main location in Ungerhausen near Memmingen, we offer you comprehensive preproduction and production services "Made in Germany". Take advantage of our decades of experience in systems engineering and innovative expertise.
This includes the following: Metal duct production (65,000 m² per year), steel production, preproduction of all system components, manifolds and assemblies, module and container production.
Your advantages: Reliability, adherence to a schedule, parallel to the construction site, flexibility and individuality, quality assurance, and a high level of quality, profitability and cost-efficiency.
We manufacture our products in a state-of-the-art production hall with the technologies of tomorrow. As an innovative system manufacturer in southern Germany, we see a unique opportunity to develop and manufacture cutting-edge energy supply components locally.
Building services engineering for private customers
Your own 4 walls
Our residential environment and personal living area are central factors in our lives.We need to have the right amount of heat, clean water and pleasant baths to feel comfortable. The right heating systems and baths are as unique as the individual people who use them. We create complete solutions that are tailored to your wants and needs.
Whether you are planning new construction or want to upgrade your existing system, we will provide you with quick, reliable assistance and consultation.
In the areas of plumbing, heating, ventilation and building services, we are available to you as an expert partner and offer you comprehensive service from a single source.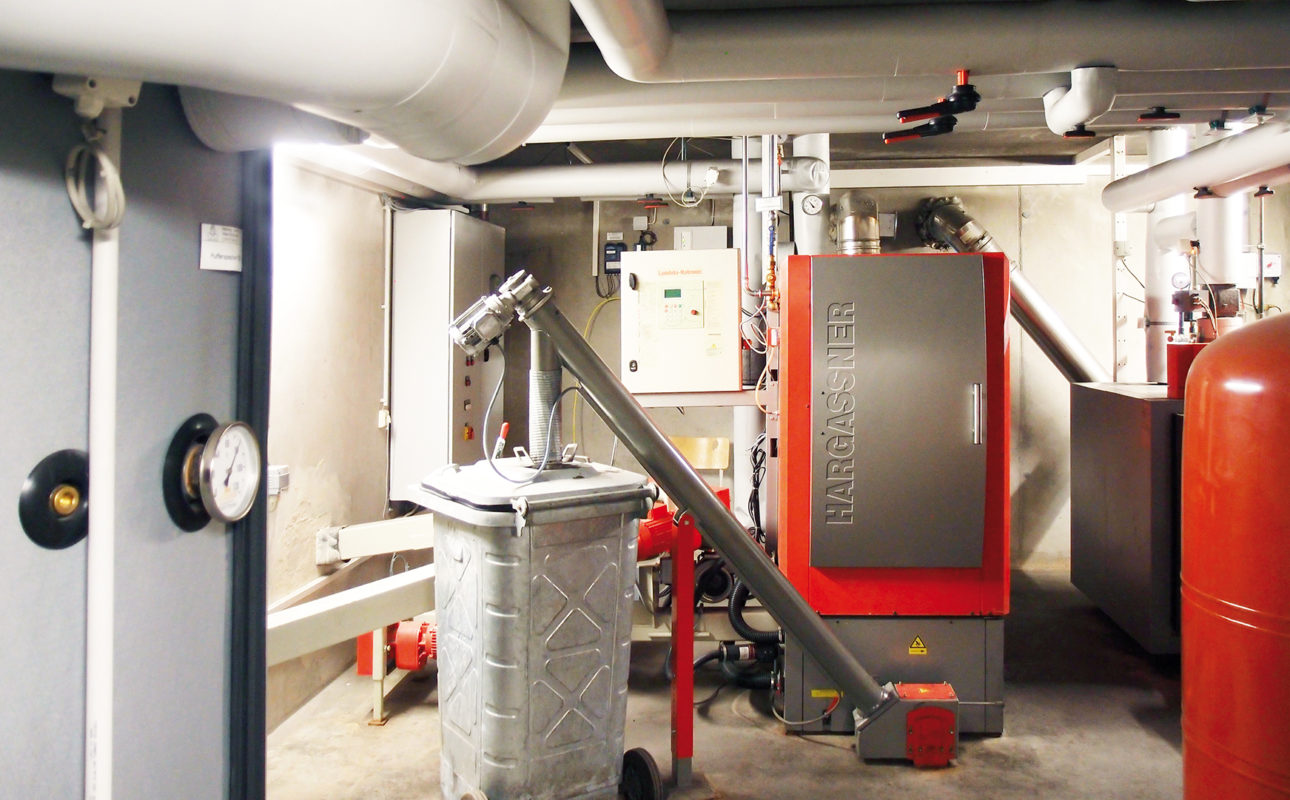 Heating technology for private customers
ENVIRONMENTALLY CONSCIOUS AND COST-OPTIMIZED
By choosing energy-efficient heating methods, you save money and protect the environment at the same time. Do you want to heat with oil, gas or regenerative energies such as biomass, solar or geothermal energy? We draw from our multifaceted product line to find the ideal solution for your requirements.
An increasing number of home owners are taking responsibility for the environment and turning to alternative energies. The state-of-the-art, budget-friendly energy systems mean that this decision is both ecological and economical – all without sacrificing comfort.
Innovative, high-quality, regenerative and cost-effective energy systems put the prerequisites in place for your efficient, safe and environmentally friendly energy supply.
As part of determining the requirements, we show you which products are the best fit for your requirements and where you get added value.
By means of an individual design and plan of implementation, we ensure that you make the right decision when investing in your energy system!
Ventilation and air-conditioning technology
A HEALTHY CLIMATE IN YOUR LIVING SPACE
Healthy and fresh air in your house is all-important for your well-being and comfortable life at home.
New energy-related standards for home construction are resulting in homes being built more airtight all the time, preventing adequate air exchange.
We explain all the advantages and disadvantages of the specific ventilation systems with regard to the planning effort, installation, characteristics and properties of the various systems and how to deal with them.
Air-conditioning is playing an ever greater role in private homes also. For example, small split air-conditioning units enable a pleasant room climate even in poorly insulated attic apartments.
We always have energy in focus and design your system for maximum energy efficiency while putting your needs front and centre.
In each of our service areas: design and planning, implementation, maintenance and service.
We take pains to ensure both system component quality as well as outstanding ease of maintenance.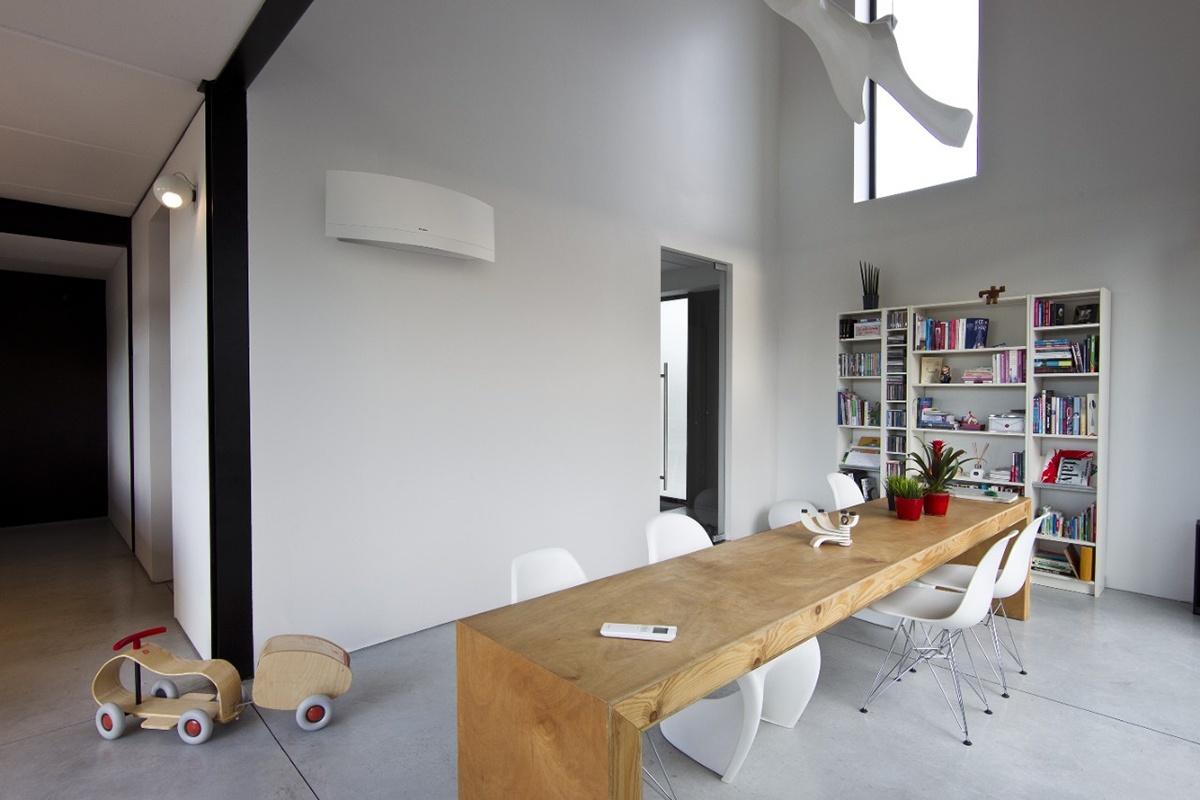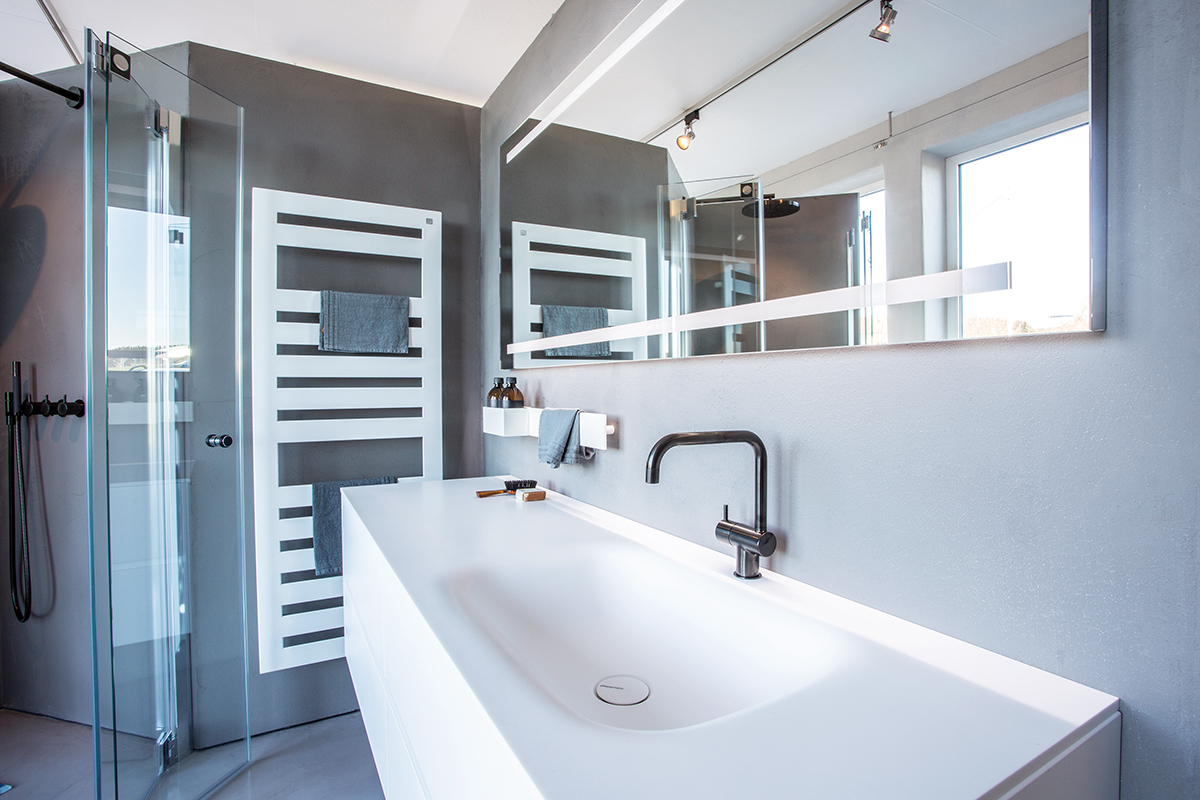 Sanitary engineering
OUR VISION – YOUR DREAM BATHROOM
Few rooms in your home are as multifaceted as your bathroom. Sink, shower/bathtub, toilet and bathroom fixtures. The needs and requirements our customers present to us are just as diverse. In addition to the desire for upscale design, the demand for comfortable safety and barrier-free construction is increasing continuously among all generations.
In addition to the furnishings, we adapt the ceramic sanitary ware, controls and any other aids to your specific individual needs and inform you of any required construction measures. We draw upon our many years of experience to provide you with intelligent and space-saving solutions for any size bathroom.
Of course, in addition to offering optimum function, you also want a bathroom that is nice to look at! Whether clear and purist or opulent and sensual, we create your completely individual space for wellness. Our range of products and services includes everything from the individual planning to CAD-aided designs and the complete bath, for which we can even take care of all the trades.
Of course, we also cover the exclusive ultra high-end bath market.
In this area, we match new bathroom designs and renovations to your personal style and accustomed lifestyle.